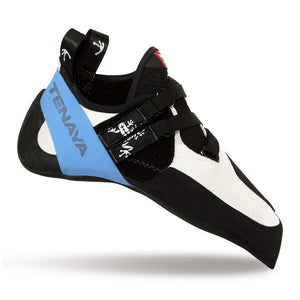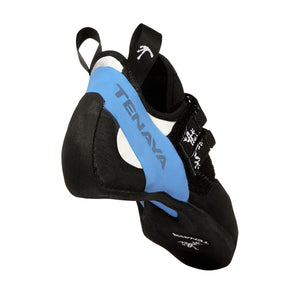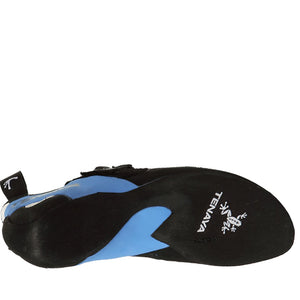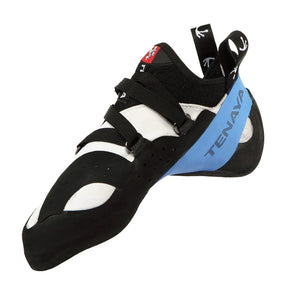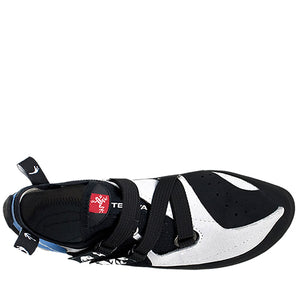 Regular price
Tenaya Oasi
---
THE TENAYA OASI IS A VEGAN SHOE.

More advantages
A superbly versatile curved shoe.
The design and construction techniques have resulted in a shoe of amazing precision on every type of foothold and all kinds of difficult situations.
The angle of the toe-box and aggressively curved shape allow the heel to sit lower providing a greater feel and control.
Incredibly comfortable for such a high performance curved shoe.
Patented Draxtor Velcro closure system allows optimal adjustment over different parts of the shoe.
Technical Specifications
Closure System
Velcro, patented Draxtor system
Tongue
Lycra, two-layer and bidirectional
Lining
TXT treated cotton
Insole
2D multi-layer Stretchtex
Midsole
Double midsole GI 1.8 & TST 150
Sole
Vibram XS Grip 3.5 mm.
Rigidity -3
More rigid and structured shoes,more power can be transmitted to the rock.
Sensitivity - 4
The more sensitive a shoe is, the more information gets transferred to the climber about the shape and the characteristics of the foot holds , giving a sensation of closer contact with the rock.
FWR - 3.5
This is the capacity of the shoe to adapt to the width of your foot. This capacity is not only determinate by the width of the sole, in some cases a shoe with a narrow sole displays a great capacity to adapt to a wider foot.

velcro closure system

in-motion fit

more range