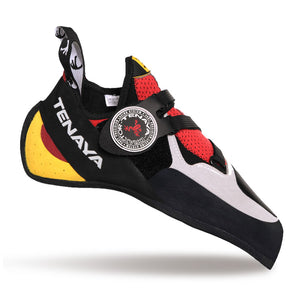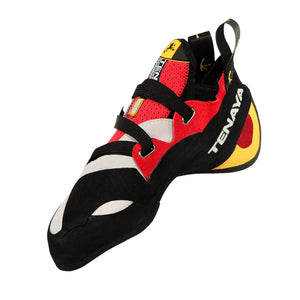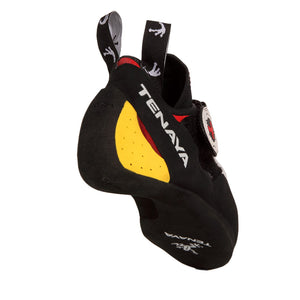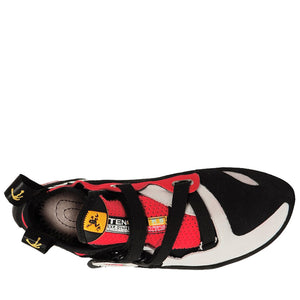 Regular price
Tenaya Iati
---
THE TENAYA IATI IS NOT A VEGAN SHOE.  THE HEEL IS MADE FROM LEATHER.

More advantages
Aggressively downturned toe-box giving superb precision in innumerable situations.
Curved and structured form allowing greater transmission of force on overhanging routes.
Includes RBRX technology enabling superior fit and control together with the intimate feel and responsiveness necessary for minimal edging or friction holds.
Microfibre and leather upper and advanced construction techniques eliminate unwanted movement and keep you in total control.
Technical Specifications
Uppers
Microfibre & Leather
Closure System
Velcro, patented Draxtor system
Tongue
Two-layer bellows with perforations
Lining
TXT treated cotton
Insole
2D multi-layer Stretchtex
Midsole
Double midsole GI 1.8 & TST 150
Sole
Vibram XS Grip 3.5mm
Rigidity -3.5
More rigid and structured shoes,more power can be transmitted to the rock.
Sensitivity - 4
The more sensitive a shoe is, the more information gets transferred to the climber about the shape and the characteristics of the foot holds , giving a sensation of closer contact with the rock.
FWR - 4
This is the capacity of the shoe to adapt to the width of your foot. This capacity is not only determinate by the width of the sole, in some cases a shoe with a narrow sole displays a great capacity to adapt to a wider foot.

velcro closure system

in-motion fit

more range